Ever taken several locks apart to figure out their masterkey ? Or had to cut a handful of keys to unearth that hidden treasure ? Guess what ? You're doing it wrong.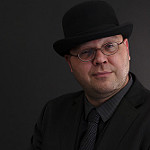 Jos is a world-record holder in the field of lock impressioning and a mainstay participant at LockSport events around the world. A long-time member of TOOOL in the Netherlands and a key figure at the Hack42 hackerspace in Arnhem, Jos is the Vice-President of TOOOL.nl and helps to oversee that organization and the LockCon conference. Some people know him as the Dutch Kilt guy. Featured in the New York Times. Voted #2 in the category "Hackers and Security" of the Nerd101-list of VrijNederland June 2015.
Photo by Dennis van Zuijlekom, for amazing pictures!