WORKSHOPS
"Shoot ALL the Hackers!"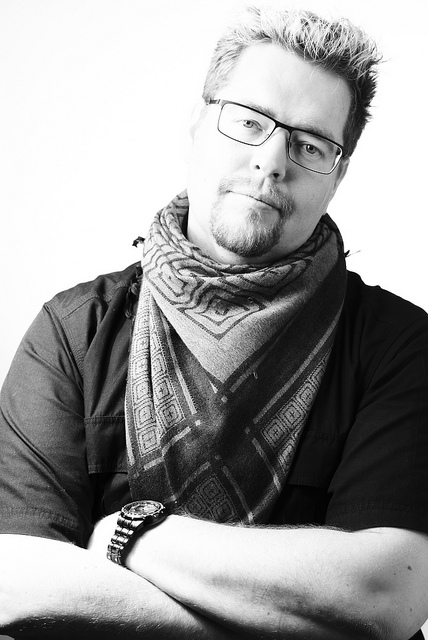 One of the long-running photography projects by Dennis van Zuijlekom (Hackerspace Hack42, Arnhem).
Its focus is portrait photography of persons who relate themselves to hacker/maker culture.
Dennis started this project in 2015 and it'll never be truly finished, as there will always be new
hackers to photograph, as well as old friends having new faces.
Dennis takes great pride in photographing people looking at their very best and the results speak for themselves.
He'll invite you to have your headshot taken during this event (and/or sometime afterwards).
You'll be using his photo in your personal bio, guaranteed. The project and the photos are licensed Creative Commons,
CC-BY-SA, as Open Source and free/libre content is important to Dennis.
About Dennis:
Dennis van Zuijlekom (1979), is a Linux/UNIX sysadmin and one of his
many hobbies is photography. His works can be found both all over the
online and in the offline world. He has broad interests, but really
likes doing portrait photography. He has been a member of Hackerspace
Hack42 Arnhem since 2011 and has been a board-member since 2018. He is
usually known as 'dvanzuijlekom' on IRC and in various online media. He
was also a mindless jerk and the first against the wall when the
revolution came.
Surface mount electronics for terrified beginners – Kliment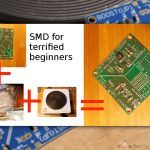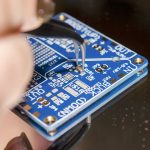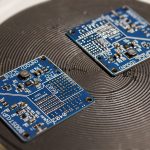 tl;dr: Surface mount electronics for terrified beginners. Learn to
assemble tiny parts on circuit boards by building a working power
supply. Anyone can do it. Yes, even you who never touched anything
electronic before. 90-100mins, 20€/kit, avoid caffeine immediately before.
This is a workshops meant for For people afraid of surface mount
assembly/rework. You know those tiny little components in modern
electronic devices? It's both possible and easy to assemble those by
hand. You can do it, and I'll teach you how! We're going to be doing a
scaled-down and de-automated version of the steps that happen in an
electronics assembly factory, We'll learn how to trick your hands into
not shaking, how to use low-tech tools to assemble high-tech devices,
and how to deal with the OMG THERE IS A SHORT ON THIS TINY PART
situation. We're building two switch-mode power supplies (one step-up,
one step-down) using tiny SMD parts. They're going to work. Nobody has
ever failed. Please show up on time.
Through hole soldering – benadski
I'll bring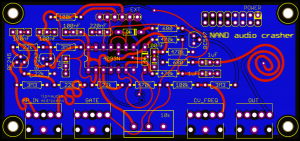 a few of my noisy kits, build the EMF sniffer (€5), the new NAND audio crasher (€10) or the improved NANDbender (€15). They all can make noise, so I'll bring some speakers and other synth stuff too to mask it with other noise. Through hole soldering is easy peasy, you can drink loads of caffeine just before starting this wo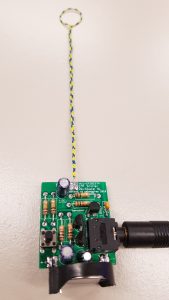 rkshop. Takes 1 or 2 hours on Saturday and/or Sunday.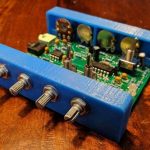 Bristlebots for kids workshop
This is a workshop meant for kids (4+) where they can build their own
robotic insect from a toothbrush and a motor. Cost 5€, maximum capacity
24 but spectators are VERY welcome. Instruction available in German and
English.
Bristlebots are a very simple robotic insect that consists of a
battery, a vibration motor, and a toothbrush. They move around on flat
surfaces because the bristles of a toothbrush are slightly angled and so
vibration results in motion. It's fun, super-easy, and very young kids
have successfully made them.
Unfortunately we only speak English and German, so parents will need to
be present to translate for kids that only speak Dutch.
Building your own Flamethrower workshop
Enjoyed the selfbuilt flamethrowers that Mike and Dimitri brought to SHA2017, EMFCamp2016/EMFCamp2018  ? WOooshhh big balls of fire, bursting 5m into the sky ? Want to learn how to build one ? What to do, what not to do ? What about safety? What is the fire triangle ? This workshop learns you about the safety hazards, what to do and after the theoretical class and explanation we go to work to actually build a flamethrower. When finished building it, we test it for safety (leaks) and then go outside to hook it up and shoot some flames!
There are two flavours: If you bring your own empty CO2 fire extinguisher the price will be 210 euro. If you don't have an CO2 extinguisher the price will be 250 euros. These flamethrowers will be the extended flamethrowers (so improved versions of the ones Mike and Dimitri brought to EMF's Null sector with optimal control over the pilot flame. The extra regulators add to the cost but are well worth it. To see a price breakdown and what you will receive it the kit look here:
https://docs.google.com/spreadsheets/d/1XgULHPIft5IEEMFRK1e-lMILYR03u0n3-6fMY1cIG-k/edit#gid=0
To join this workshop buy the kit of your choice (with/without empty fire extinguisher 250/210 euro) and we will make sure the complete kits are at your convenience at Hackerhotel.
Workshop will start Saturday 16th 13.00hrs
Social Engineering Experience – Marcel van der Velde
During Hackerhotel Marcel will organise a Social Engineering Experience.
Experience first hand what it's like to be social engineered, or be the social Engineer yourself. This workshop consists of 3 workshops in total and you need to enter the workshop by emailing Marcel to join the experience, you can mail marcel on the following emailaddress:
HH2019@stierenmest.nl
1. First the instruction on Friday evening before the official kickoff in the Rembrandt room (only for people that subscribed themselves to this workshop using the email address above!)
2. On saturdayevening: An evaluation of the experience so far, new assignments and off you go! Only accessible for people that subscribe to this workshop using the link above!!!.
3. Finally, a public talk describing the experience (can also be attended by people that not subscribed before!) what happened during Hackerhotel 2019.
Remember to fully enroll in this experience workshop enroll using this email address: HH2019@stierenmest.nl
Blacksmith Workshop (SparkShack @ HackerHotel) – Gori
Blacksmiths are the original proto-hackers: makers of tools and machines, enablers of civilization. The craft has been around for at least 7000 years, and it is still going strong. This year at hacker hotel, you will have the chance to try it out for yourself! SparkShack, the metal workshop located at RevSpace in The Hague will be present, with an array of materials and tools, providing demonstrations and workshops on steel forging and aluminium casting. If there is interest and we all feel like it, we wil do more advanced things, like pattern-welding steel to make damascus, etching and staining steel, forging aluminium or casting copper and bronze.
The following activities are planned :
Forging and casting demos! Times will be announced at the event.
Ask Gori for a introduction to forging workshop. It takes about 1 hour, two persons max. Times are random and flexible
Have your custom 3D printed design cast in metal! Contact gori@revspace.nl beforehand if you want to do this.
Come and play with us anytime the workshop is open!
Most important thing is that if you want to play at the SparkShack, please bring protective clothing. Red hot steel and molten aluminum are very dangerous and can seriously hurt you!
This means :
Closed leather shoes
Safety overall or jeans and thick cotton shirt
Safety glasses
Leather gloves
Ear protection
Absolutely no synthetic clothing! Synthetics can catch fire and will melt onto your skin!
SparkShack @ HackerHotel is organized by Gori, a scientist and dad by day, hacker and blacksmith at night.
Impressioning Workshop – Jan Willem Markus
Impressioning is the art of filing a key to a unknown lock. Impressioning is closely related to lockpicking where the goal is to open the lock. With impressioning you can save your progress half way and have a working key in the end.
How does it work? By inserting a brass key blank (uncut key) into the lock and apply rotational force and up/down movement you damage the key (and lock) slightly. The damage to the key is useful as these are the places where the pins are binding in the lock and we can file these binding pin positions down.
After repeating these steps, we'll have a working key. This usually takes between 15 to 30 minutes with practice. The participants will need about an 30 to 60 minutes to create a working key. By 'cheating' we can increase the chance of success, and lower the time needed.
We impression on Abus C83 locks as this is the lock I practice on. This lock is used in the European impressioning championships. I've got all the materials for this workshop, and can teach 5 people at once. Even more when tools are shared. No further equipment is required.
In preparation I suggest watching one of Jos Weyers's talks on Impressioning (https://youtu.be/JcNc1BVaCE0?t=1165).
About Jan Willem:

My name is Jan-Willem Markus (@jwrm22), I'm an electronics engineer by trade. I'm always in for a challenge. I found my way in to the hacker community by BEEA (beea.nl/) and SHA2017. I'm a member of Toool and BitLair.
This is a chance for me to improve upon my teaching skills and make impressioning more popular. I'll bring my lockpicks with me too, and some stupid easy locks.
Blij met Bleek:
T-shirts decoreren met bleek is gaaf en niet moeilijk. We gaan sjablonen
maken van stickerpapier of dun karton; als je voorzichtig snijdt of
knipt krijg je een positieve en een negatieve mal, die kun je allebei
gebruiken en het effect is heel verschillend.
Ook heel gaaf: tie&dye-achtige technieken kunnen ook met bleek. Zo maak
je spiraalnevels, bliksemschichten, tijgerstrepen of nog iets heel
anders. Je kunt dit ook doen met een bedrukt shirt: de opdruk blijft
gewoon staan.
Welke kleur je precies krijgt, is lastig te voorspellen, maar dat is een
deel van de lol. Het is hoe dan ook een beetje een eigenzinnige en
onvoorspelbare techniek; het resultaat is in ieder geval niet saai en
het gaat er nooit, maar dan ook nooit meer uit.
Meebrengen:
– T-shirts in (donkere) kleuren naar keuze. Hoeven niet nieuw te zijn.
Plunder bijvoorbeeld de kringloopwinkel of je kast.
– Simpele logo's, plaatjes of teksten die je op je shirt wilt hebben.
Maak het niet te subtiel. Alleen een idee is ook goed, dat werken we dan
ter plekke wel uit.
– Als je een gevoelige huid hebt, breng dan afwashandschoenen mee om te
dragen tijdens het uitspoelen van je shirts.
English Summary
In this workshop, we will be making boring T-shirts into interesting,
unique and cool T-shirts, using bleach and various techniques. Please
bring your own boring T-shirts in darker colours; prints are OK and will
remain in place. If you want to use existing (simple) designs and
(simple) logos, print them on thick paper or thin cardboard and, you
guessed it, bring them.
========================================
What the Helmet:
Engelstalige samenvatting:
Life is dangerous, protect yourself! But do it in style. This workshop
will teach you how to change a normal, boring hard hat / builder's
helmet into a super cool, metal like cyberpunk helmet. It can look like
rusty iron, pewter, bronze or copper and it can have letters or logos of
your own design. Your friends will envy you and wonder how you suddenly
got so cool and crafty.
The workshop consists of two parts: in the first, we prepare the helmet
for painting, add faux welding seams, rivets, and other 3D decorations.
Then we paint it. In the second part, we add the metal look for extra
shinies. If you want to use weird objects, electronics or gears… bring
them.
There is a 5 € fee for materials, which covers the helmet itself and
everything else.
An introduction to Open Source Intelligence ( OSINT ) – Onno
Open Source Intelligence is more than search engines such as "Google" and Internet.
Examples of resources are Job announcements, public records (eg building permits), personal
records, news, periodical (press releases, radio, television) Web-pages, Blogs, Chatroom's,
forums, file sharing, company information (eg. whois), online News.
We all know that loose lips sink ships.
Open Source Information is a constant threat to any organization, mission and yourself.
Collecting information from available public, or open-sources is done by
army, security, law, spies, Red Team's, business functions and now you.
The workshop is open for everyone with a small hands-on training.
Because it is on Sunday we will start slow.
After a brief introduction about OSINT we start information gathering.
We will use case's from last year to find out how Open Source Intelligence is used in
spearfishing attacks.
The presentation is done many in English, if you only speak German or Dutch that is no
problem.
Students need:
Computer with a ""Virtual Machine" of there choice installed and enough ram and disk space.
(Tablets, Arm mini computers are perhaps not a good idea for beginners)
Kali Linux disto with a free Maltego community registration or Maltego community edition
installed on your OS. Kali Linux is preferred because more tools are installed.
About Onno:
Looking for a new adventure.
Illustrator with interest in puzzling, CTF, soldering, hardware, Social engineering, books, Threat
Intelligence, Open Source Information and much more.
Drinks Tea.  Everything about me is true…….
Give a workshop!
Participants of Hacker Hotel give lectures and workshops in all kinds of disciplines and levels.
There is more than enough space to give your prepared or unprepared workshops.
We have 10 different rooms, varying from secret lairs to big presentation rooms.
Giving a workshop, whatever the skill level, is greatly appreciated. Contact us!